Ko Matsushita
松下 耕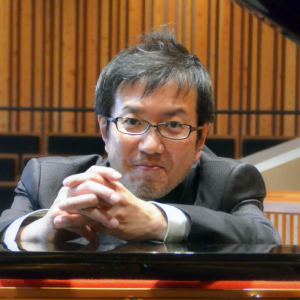 Composer and conductor born and raised in Tokyo. Matsushita graduated at the top of his class from the Kunitachi College of Music, Department of Composition, and went on to study chorus conducting under the late prof. Reményi János, and prof. Erdei Péter in Budapest and Kecskemét (Kodály institute), Hungary.
He is currently the conductor and artistic director of 14 choirs, which are often invited to perform in Japan, Europe, America, Canada, and Asia. They have also achieved excellent showings in the choral circuit and won awards in international competitions.
A prolific composer and arranger, Matsushita's works are performed around the world. His compositions vary widely, ranging from works based on traditional Japanese music, Masses, motets, to etudes for choirs.
His works are published in Japan by Edition KAWAI, Ongaku no tomo sha Corp., Pana Musica, and overseas by Carus-Verlag Stuttgart (Germany), SULASOL (Finland), Annie Bank Edition (the Netherlands) Porfiri & Horváth Publishers (Germany) and Santa Barbara Music Publishing (USA) among others.
Besides conducting and composing, Matsushita is also an active workshop clinician and lecturer both within and outside Japan. In recent years, he has adjudicated at the Singapore Youth Festival Central Judging and Arts Presentation (Singapore), the Seghizzi International Choral Competition and Musica Sacra a Roma (Italy), the Hong Kong International Youth & Children's Choir Festival (Hong Kong), the Tolosa International Choral Competition (Spain) , the Florilège Vocal de Tours (France), the Béla Bartók International Choir Competition (Hungary), the Busan Choral Festival Composition Competition (South Korea), the Musica Ficta International Competition for Choral Composition (Italy) and so on.
In 2005, he became the first Asian to receive the"Robert Edler Prize for Choral Music" in recognition of his outstanding achievements worldwide in conducting, composing, performance, and education within the field of choral music.
He is currently the Artistic director of the Tokyo Choral Alliance KOYUKAI and Karuizawa International Choral Festival, a board member of the Tokyo Choral Association, as well as a member of the Japan Choral Directors Association, the International Kodaly Society, and a representative of the Workshop of the Choral Expression. Furthermore he is a member of Japan Composers & Arrangers Association, Guest conductor for Beijing University Mixed Choir(People's Republic of China).